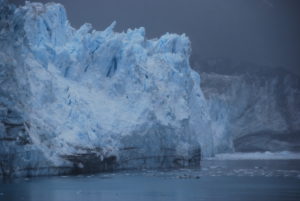 Oregon State is set to assume stewardship of the Antarctic and Southern Ocean National Collection of Rock and Sediment Cores, providing researchers with unique opportunities to study millions of years of Earth's climate and oceanic conditions, volcanic and seismic events, ice ages, and early life all right here in Corvallis. The expanded collection will join others curated by Oregon State in a new 18,000-square-foot cold storage facility just outside campus.
Since the mid-1960s this collection of rock and sediment cores has been housed at Florida State University. Florida State decided back in 2015 not to compete to renew several National Science Foundation grants to provide stewardship for the Antarctic collection.
Geology and geophysics professors Joseph Stoner and Anthony Koppers from OSU's College of Earth, Ocean, and Atmospheric Sciences submitted a bid for and were awarded two NSF grants to transfer the collection to the OSU Marine and Geology Repository and to take care of this treasure trove of scientific insights. Sediments from as far down as a kilometer and as old as 50 million years are part of OSU's collection of core samples.
"The expanded collection will include some 35 kilometers, or about 22 miles, of sediment cores, more than doubling the size of our current repository at Oregon State," said Stoner. "OSU already shares on average 5,000 subsamples of the cores with scientists each year – a number that will more than double with the expansion."
The value of the scientific information made available by this collection is difficult to determine. "If we had to replace the cores in our current OSU repository, it would cost roughly a half billion dollars just in ship time to go collect them," said Stoner. "That doesn't include the cost of the people involved. To replace the Antarctic collection would easily cost more than $1 billion, since the Southern Ocean is so remote, travel is difficult, and you can only work two or three months out of the year."
Moving the collection to Oregon State is expected to bring researchers from around the world to collaborate here in Corvallis.
"The Antarctic research community is very active, very enthusiastic, and very diverse. With our new facility, we will have the capacity to work with researchers in numerous disciplines studying a variety of scientific questions," said Koppers. "Most core repositories are starving for space."
Oregon State is expected to prepare the new facility to receive the expanded collection over the next several months, leaving plenty of room to grow for decades to come. 
By Matthew Hunt