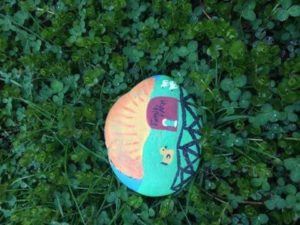 Every so often, an organization comes along whose only goal is to brighten someone's day in the simplest way possible. Benton County Rocks is one of those groups. Frontwoman Andriea Oshel explains they're a group that paints rocks and hides them around the county for other people to find.
The concept is similar to geocaching, the treasure hunting community that hides any kind of item but also sends out their GPS coordinates. Finders can then take that item and replace it with something of their own. Benton County Rocks members paint rocks in ways that range from inspirational phrases to more complex art. Then they post a photo to the Facebook page with a description of its location, sometimes in plain sight. Finders can do whatever they choose with the painted rock; some choose to collect them, others hide it elsewhere to keep the process going.
Currently, Benton County Rocks has 336 members on Facebook; the group has been running since October 2016. Its counterpart, Linn County Rocks, has 9,218 members and has existed for just a couple months longer, since August 2016. They've even gotten businesses involved. Bowling alleys, pizza joints, and even Shari's has started hiding rocks in exchange for free games, pizzas, and pie.
"Benton County has not caught the rock bug," Oshel said.
Oshel's favorite part about the group is just the fun of it all. "When you find a painted rock it's super exciting," she said. "There are some really good artists out there and they paint some very beautiful rocks."
For more information, visit Benton County Rocks on Facebook.
By Regina Pieracci