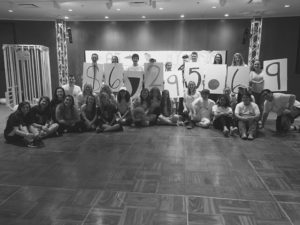 For many students, the college experience is a combination of hitting the books and partying. But it's not often that you hear about a party with a purpose. On April 8, Beavs Helping Kids, a student-run philanthropic organization, will host the OSU Dance Marathon from 5 to 11 p.m. at the Student Experience Center Plaza.
Co-executive directors Saul Boulanger and Alex Hart describe this event as an opportunity to raise money and awareness for the Children's Miracle Network. "The money we raise goes to help out the Sacred Heart Medical Center in Springfield—the pediatrics unit. It helps cover the cost of different materials and supplies that children staying there require." This is just one of many student groups across the country whose primary focus is helping the Children's Miracle Network continue their good work. This nonprofit organization provides funds for children's hospitals and medical research while building community awareness of health issues affecting children.
In the future, Beavs Helping Kids would like to expand their group. Established in 2011, they currently have about 15 members, but they're always looking for more people who are passionate about this work. Part of their mission is "to create a sense of unity on campus and within the Corvallis community. By coming together to support this cause, we can all be a part of something bigger than ourselves, no matter the amount of money fundraised."
Because Beavs Helping Kids is still getting established, there will be a suggested donation but no entry fee for the dance marathon. More than anything, Hart and Boulanger want people to know about what they do and how to help. "It's not quite a marathon in the sense that there's a winner… The idea is that we're standing for the kids who can't, those in the hospital who are physically ailed to the point that they can't stand or dance," said Hart.
There will be plenty of incentive to join the cause, including games, performers, and free food. If you're an OSU student and this message resonates with you, consider joining the group. If nothing else, strap on those dance shoes and help your fellow Beavs have a successful marathon.
For more information on Beavs Helping Kids, email beavshelpingkids@oregonstate.edu.
By Anika Lautenbach