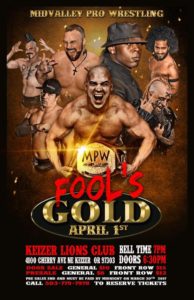 On Saturday, April 1, Mid-Valley Pro Wrestling (MPW) will be holding its next wrestling event, a two-hour series of matches billed as Fool's Gold.
MPW started in January of 2016, and has held bi-monthly shows since then. At Fool's Gold, D-Flex will be defending his Mid-Willamette Valley championship against Christopher Love Thomas. As MPW's first-ever named champion, D-Flex and his competition are sure to put up a good fight. Others who will be wrestling that day include C. J. Edwards, Mike Santiago, Wade Hess, Derek Drexl, Johnny Paradise, Draven Vargas, and Dave Turner.
MPW representative Griselda Rios says that front row tickets are still available for advance purchase for $12 (they'll be $15 at the gate), and general admission tickets for $8 ($10 at the gate). Concessions will be open and a raffle will be held, while individual wrestlers will offer autographs and merchandise for sale.
Rios promises that the performance will be kid-friendly.
Fool's Gold will be held at the Keizer Lions Club at 4100 Cherry Avenue NE in Keizer, from 7 to 9 p.m. on Saturday, April 1. Doors open at 6:30 p.m. For pre-sale tickets, call 503-779-7978.
By John M Burt